Show your style, choose a built-in freezer.
Have you furnished your kitchen with a separate fridge and foreseen a place for a built-in freezer? And all this must be built-in your new kitchen furniture? Does a usual freezer not suit you?
There is plenty of built-in freezer from different manufacturers on the market: Beko, Bosch, Gorenje, Indesit, Kenwood, Liebherr, Mielle and other suppliers that develop the segment of built-in household appliances.
In this article, we will talk about integrated big and small freezers.
Based on their advantages and disadvantages, our team has prepared a list of top seven best built-in freezers according to their technical specifications.
The best builtin freezer in 2023
Note: If you are in a hurry to choose a suitable built-in freezer, just scroll down because there you can find two models that suit most people. One of them is more expensive and, correspondingly, more functional and flexible to be installed in your kitchen. The other one is cheaper and slightly less rich in functions or installation options.
Bosch GUD15A50GB Classixx – built in freezer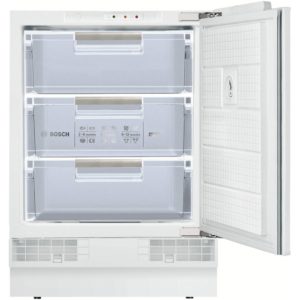 A freezer with three transparent boxes and SuperFreezing function — food products get frozen here more quickly than in usual freezers.
Due to optimal storage conditions you food keeps its ideal consistency. Constant temperature in the freezer is the decisive factor for ensuring the best possible freshness and taste of food.
FreshSense sensors control the temperature inside the device regularly and independently of ambient temperature.
Bosch GUD15A50GB freezer has SuperFreezing function that protects frozen food from defrosting while new foodstuff is being put inside.
Item Weight: 36 Kg
Dimensions: 59.8 x 54.8 x 82 cm
Capacity Total: 98 litres
Gorenje FI4091AW 54cm integrated freezer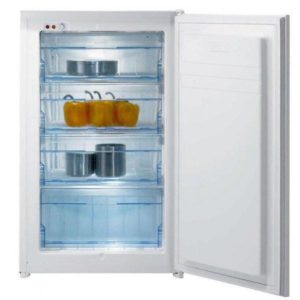 FastFreeze function freezes food at -24 °C to keep most of its minerals. In approximately 2 days the functions is switched off automatically and the temperature inside the freezer returns to its initial setting.
Check price
SIA RFU102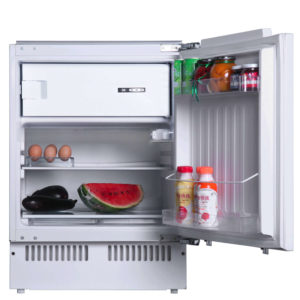 A built-in mini-fridge with a freezer and A+ energy saving type.
RFU102 is a 117 l fridge from SIA designed to ensure high-quality storage and freezing of your foodstuff at an accessible price. Its compact size makes it suitable for small kitchens, but with high performance standards intact.
Check price
Beko BZ31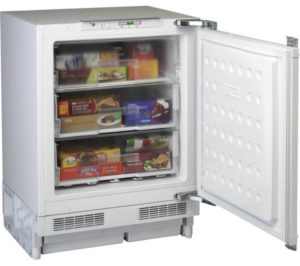 This freezer can be easily integrated into your kitchen. Beko integrated undercounter freezer suits any kitchen design because it can be built in behind cupboard doors without any problem.
Beko BZ31 freezer can even be used not in the kitchen but a garage, utility room or basement. It can work at ambient temperature as low as -15 °C.
This model has a reversible door function, so it can be installed anywhere. There are three boxes with total capacity of 87 litres for constant freezing of foodstuff.
Check price
Zanussi ZQF11430DA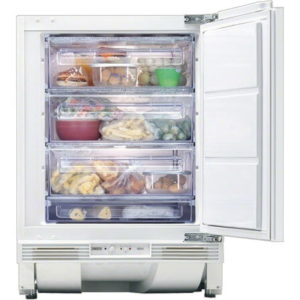 As it has already be said about the compact freezer with good energy saving, this fridge has similar parameters.
You can find its technical specification in the table above, and this paragraph tells you about the main merits and shortcomings. ZQF11430DA has transparent boxes that allow finding any required food products without fuss. The doors are fixed reversibly and, as a result, this builtin freezer can be easily adjusted for your kitchen.
This fridge like warmth and is not designed to be used at frost or in any rooms without heating. It is intended for operation only in the kitchen.
Zanussi ZQF11430DA has a control panel to select temperature and freezing levels. It warns its owner about the door being opened (if it is not closed tightly).
Total capacity is 105 litres.
Check price
AEG AGS58200F0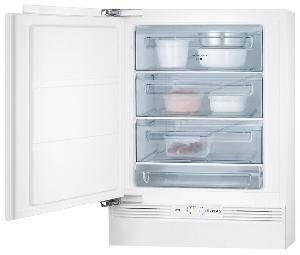 Temperature is controlled by electronics, thus letting you always be certain that the set temperature is stable and precise. The assembly includes also a freezing tray. Frostmatic function develops freezing temperature very quickly if you need to add some new foodstuff to be frozen swiftly. Thereafter the fridge returns to its usual operation mode. If incidentally the door happens to remain open, sound alarm of the appliance informs you of it.
Check price
Lec U50052W 50cm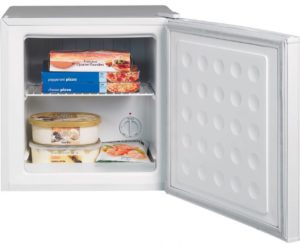 A stylish and small freezer can suits small rooms perfectly well. Without making any extra noise, the freezer can accept lots of food stuff despite its small size. This is a perfect bargain for those, who need additional space to freeze food.
Capacity is 32 litres.
Check price